In the year of 2022 we are completely switching up what colour works for different vibes. So those colours you've been loving may not be so trendy anymore but that doesn't necessarily mean you can't achieve the same atmosphere you were going for with the wave of new colour trends.
The thing about painting a room is that it's the most satisfying and easiest way to completely transform the atmosphere you are trying to create. It's a bonus that it doesn't cost too much to do so either. So whether you want to create a feeling of joy or relaxation when you're in the room, the simple colour of the wall can help do just that.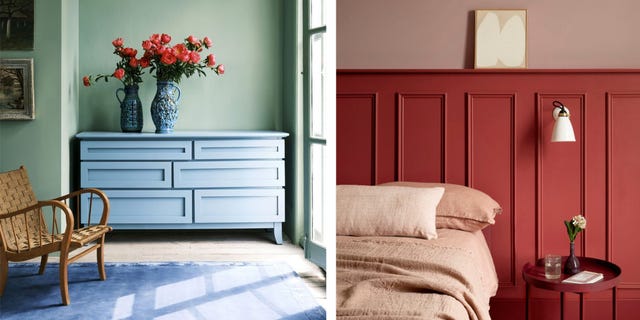 One of the biggest trends for this year is opting for warm tones and colours. Instead of going for the typical light bright colours like White, the warmer deeper toned colours are perfect to still give that summer feeling. Colours such as burnt orange, sage green and light mustard are perfect for bringing the element of travel and holiday vibes to your room and after the covid19 pandemic, the feeling of escaping without leaving your home is a popular trend.
Pre pandemic, light grey tones were super popular, even the beige but over time having to stay within four walls, the colours we once thought were perfect for a modern look and feel have now become boring and dull.
In order to achieve the modern minimalist look, colours like duck egg blue and sage green are perfect for bringing the room together and providing that calm feeling and zen.
People now want to feel joy more than ever in their humble oboes so we're leaving the greys and neutrals with green and blue undertones behind us and replacing them with richer cool colours with the pink and yellow undertones.  
Colours are often a reflection of our moods and now we look towards more exciting colours that bring joy, calmness, zen and peace. The colours in 2022 to look out for are:
Sunny Yellow
Sage Blue
Duck Egg Blue
Lilac
Having these colours in your home will bring a positive atmosphere throughout the year as they can work well through both summer and winter seasons if paired with the right colours.
Be sure to check out our wide range of prints that you can have in homes that will work with a lot of the trending 2022 colours.
Written by Taz xx
---